One Day Haldighati Tour Package with Tempo Traveller – Haldighati, famously known as a gallantry of Maharana Pratap, name this place "Haldighati" due to the turmeric colors of mountains. Located at a distance of 40km from Udaipur city, Haldighati witness a huge war between Rana Pratap Singh of Mewar and Raja Man Singh of Amber. The turmeric narrow mountain plays an important role in defending the honor of Mewar dynasty.
Haldighati enlarge as a must visit tourist attraction that flares the merciless battlefield. Visiting this place will make you realize about the courageous soldiers standing on the exact lands where they fought. The terra firma made the battlefield to legend, Maharana Pratap and his loyal horse, Chetak capture the major attention of several tourists. This place gives a nostalgic feeling as this was the same place where Chetak, the heroic mount of Rana Pratap, breathed his last after leaving his master to a safe place.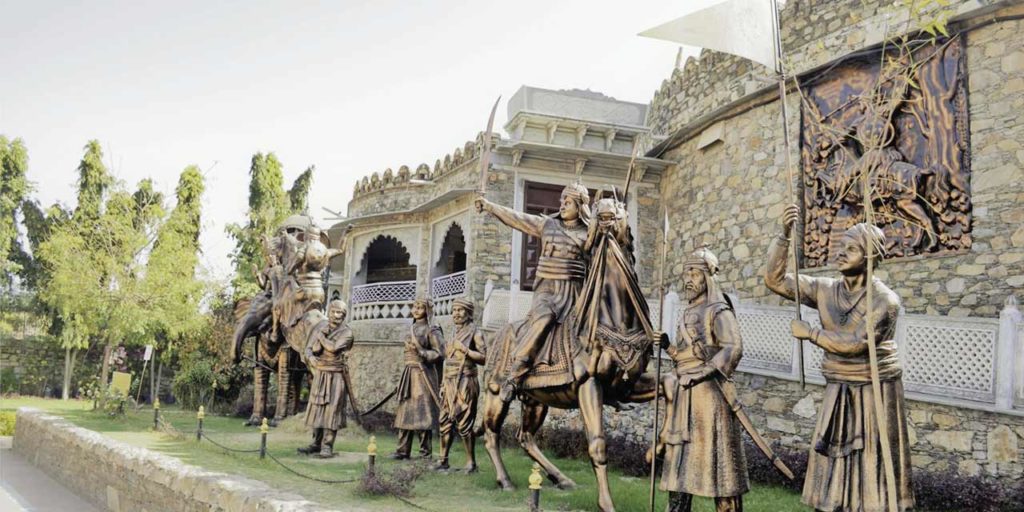 Major Attraction at Haldighati
#Cenotaph (Chattri)
Cenatoph (Chattri) built in pure white marble is almost around 4 kms away from battlefield. This place is dedicated to the gallant horse Chetak as a sign of respect and admiration. The bloody battle of Haldighati has been captured an inescapable place in the History of India. The bloody battle of Haldighati is known since the ages in Mughals and ballads. The place that is dedicated to Chetak can be visit from Udaipur by booking reliable Taxi Service in Udaipur.
#Balicha Village
Close to Chattri, you can visit Balicha village that is famous for its terracotta crafts. Attached with this place, Badshahi Bagh is another place that is renowned for Chaitri-Gulab, here at Badshahi Bagh, you can also find original rose water and 'Gulkand'(Jam made from Rose petals) that has lots of benefits and  also taste good. Thus, Haldighati is a place of interest for the people who value history and respect the heroes of India for their priceless efforts.
If you are one of those who are planning a trip from Udaipur to Haldighati with friends and family, then you can book a Tempo Traveller in Udaipur or Udaipur to Haldighati Taxi Services from a well-known firm such as Udaipur Taxi and can have a memorable trip to Haldighati without any stress and with full enjoyments.
: Contact Us:
Call: 9829998515
Mail: carrentalinudaipur1@gmail.com
Visit: https://udaipurtaxi.co.in/