Jodhpur, the second largest city in Rajasthan (albeit pleasingly unspoiled by haphazard development), has a fascinating past. In case you were wondering, yes, it is where jodhpurs got their name from! These unusual pants were designed by the Maharaja of Jodhpur's son, Pratap Singh, and worn by his polo team when visiting the Queen of England in 1897. Jodhpur is famous for its blue buildings, which were originally painted to signify that they were occupied by Brahmins (the highest caste in India).
These Jodhpur attractions and places to visit will give you a diverse experience of the city. If you have a spare day or two, visit nearby Bishnoi village (Bishnoi Village Safaris conduct tours) and/or Osian (where you can see carved temples and go on a less-touristy camel safari).
Explore Mehrangarh Fort

Impregnable Mehrangarh Fort, which rises above the city, is one of the largest forts in India. As impressive as it is, as a well preserved heritage structure, there's so much more to discover inside. One of the highlights is the museum, which houses an outstanding collection of fine and applied arts from the Mughal period of Indian history. It even has the only professional museum shop in India. The Fort's ramparts are lined with antique artillery and offer a panoramic view of the "Blue City". Do allow plenty of time to visit the Fort — you can spend hours wandering through it. Want a romantic evening dinner? The Chokelao Mahal Terrace restaurant serves traditional Rajasthani cuisine, while the city sparkles below. The Fort is also an evocative setting for music festivals. Don't miss the annual Rajasthan International Folk Festival in October and World Sufi Spirit Festival in February.
Ride the Jodhpur Flying Fox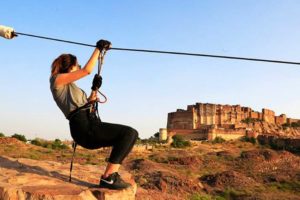 Adventure lovers can't pass up the unique opportunity to go zip-lining with Mehrangarh Fort as the backdrop. The circuit has six zip lines and takes around 1.5 hours to complete. Groups of up to 12 people depart at appointed times.
Relax at Jaswant Thada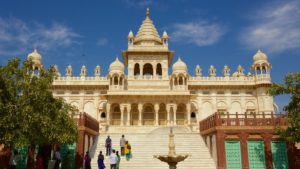 This intricately crafted cenotaph (empty commemorative tomb) was built in 1899, in honor of Maharaja Jaswant Singh II. It features white marble lattice screens and whimsical domes. The inside is adorned with portraits of Ranthore rulers. It's a peaceful place to relax and enjoy stunning views of the Fort and city. Many a tired tourist sprawls on the front lawn to recuperate after sightseeing!
Check Out the Clock Tower and Old City Markets
A trip to Jodhpur wouldn't be complete without visiting the bustling Old City (many people choose to stay in it as well, as some of the best budget hotels in Jodhpur are located there and have fabulous Fort views). The Old City's famous landmark, the clock tower, stands at the heart of it — and it's still working! Next to it, Sadar Market retains a traditional village bazaar feel. It's chaotic and colorful, and sells almost everything (including handicrafts, spices, saris and fabric).
If you searching best Cab Services in Udaipur at best price, so look no further than Udaipur Taxi. We provide cheapest taxi booking services Udaipur to customers for their flexibility, reliability, timely execution, proper planning, convenience, safety and security.
Services offered by us are highly cherished by the customers for their flexibility, reliability, timely execution, proper planning, convenience, safety and security. Our range of Cars includes Tata Indica, TATA Indigo, Tavera, Toyota Innova, Honda City, Toyota Corolla, Camry, Mercedes, Honda Accord, Luxury Coaches etc.
We provide Best Taxi Service in Udaipur with affordable price. We also provide Taxi Service from Udaipur to Jodhpur. We provide Udaipur to Jodhpur Taxi Service for easy way. For more detail about us just call 9829998515 or visit us http://udaipurtaxi.co.in/ Email carrentaludaipur1@gmail.com