It is great if you had been to Venice. If not and if you would like to know how it would feel like to be in such a lovely atmosphere, you may have to land in Udaipur, famously called the 'Venice of the East' and 'The City of Lakes'. Udaipur, a city in Rajasthan is a stunning location and has a rich cultural background and a great history. The palaces reflect the architectural grandeur prevailed during the period of Rajputs and the scenic landscape is descriptive of how nature could be generous where it chooses to be. Here are top 5 places to visit in Udaipur, which you just cannot miss.
Lake Garden Palace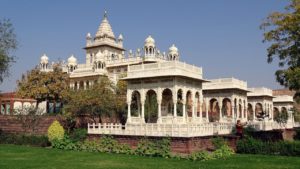 Jagmandir or Lake Garden Palace is said to have served as an inspiration for the Taj Mahal when Shah Jahan took refuge here in his younger days. This palace has a long history and is considered one of the symbols of friendship between the Mughals and Rajputs. A series of impressive structures give this palace a regal feel and would delight any visitor.
Vintage Car Museum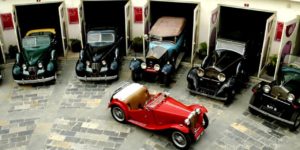 A paradise for all motor enthusiasts, The Royal Vintage Car Museum is a must visit for any visitor. It was inaugurated in Feb 2000 and has become a very popular tourist destination since then. The museum houses many famous vintage cars like the 1934 Rolls-Royce Phantom used in the Bond film Octopussy and many rare Rolls Royce models to name a few. The quiet and peaceful environment here is an added bonus.
Bagore Ki Haveli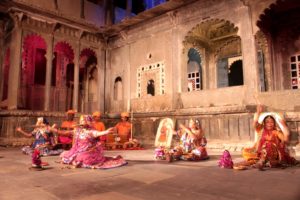 Bagore Ki Haveli is situated near Pichola Lake. The 18th-century construction was built by Amir Chand Badwa, Chief Minister at the Royal Court of Mewar. The Haveli became the residence of Maharana Shakti Singh of Bagore in the year 1878 and hence the name Bagore Ki Haveli. This was converted into museum retaining the royal touch to the building. The museum presents the culture of Mewar. The antique collections include the stuff used by Rajputs such as jewelry boxes, hand fans, copper vessels and so on. The massive building has over 100 rooms and looks splendid with its unique style of architecture. When you are there, make sure you present yourself for the shows conducted here in the evenings.
Saheliyon Ki Bari
Built by Sangram Singh II as a gift to queen and her maids, Saheliyon Ki Bari (Garden of Companions) is a beautiful sight to behold. The king designed the garden himself and strived to make it a relaxed place where the queen could relax with her 48 maids. The garden still serves its purpose in many ways and people come to this place to escape the chaos of the city.
Jagdish Temple
Built in the year 1651, Jagdish Temple is Udaipur's largest temple. An estimated 1.5 million INR were spent on this stunning Indo-Aryan architectural marvel. It is dedicated to Lord Vishnu and also houses other shrines dedicated to Lord Shiva, Ganesh, the Sun God, and Goddess Shakti. This temple should be visited not only to offer your devotion but also to witness beautiful wall carvings, elephant sculptures and for the stunning architecture.
If you Looking for Best Taxi Service in Udaipur or Taxi Services in Udaipur then Udaipur Taxi Service is best for Car Rental Service in Udaipur. We are well known Online Travel Agency in Udaipur.
Services offered by us are highly cherished by the customers for their flexibility, reliability, timely execution, proper planning, convenience, safety and security. If you are looking for cabs in Udaipur then call us at 9829998515 or visit us http://udaipurtaxi.co.in/.