Check out the list of local places in Udaipur, which you cannot miss to feel the locality atmosphere. In Udaipur there are many local places which are have their own importance in the city. Some of them we describe here, so you can know about this and have a beautiful memories with Taxi Service in Udaipur.
Sukhadia Circle:-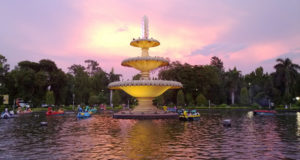 Sukhadia Circle, also called The Heart Of Panchvati. Sukhadia Circle is a small pond, at center of which lies a 21 ft high three-tiered fountain. The fountain is made of white marble, and is shaped like a wheat-ear motif, which stands as a symbol of prosperity. It is popular place for Udaipur locals, where they enjoy horse, camel and also boat rides.
Saheliyon Ki Bari:-
Saheliyon ki Bari is one of the most beautiful garden and tourist destination place in Udaipur, built by Maharana Sangram Singh in 18th century for the royal ladies. It has beautiful fountains, a lotus pool, and marble elephants.  The beautifully carved marble pavilion is also a major attraction in this beautiful park. There is also a museum in Saheliyon ki bari. The museum boasts a huge collection of royal households. It also has a number of stuffed animals that includes cobras.
Jagdish Mandir:-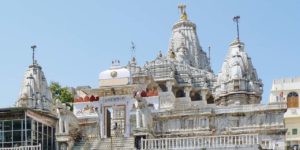 Jagdish Mandir, a famous hindu temple situated in City Palace Complex, Udaipur. This major attraction is devoted to Lord Vishnu, the preserver of the universe. It is the most significant temple in the entire city of Udaipur. This temple should be visited not only to offer your devotion but also to witness beautiful wall carvings, elephant sculptures and for the stunning architecture.
GulabBag:-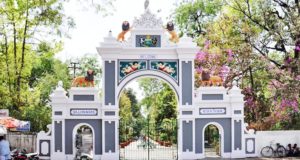 Gulab Bag, The largest garden in Rajasthan, built by Maharana Sajjan Singh in 1881. It is a main attraction to tourists, it has vast range of tree that gives beautiful greenery view.  The Gulab Bagh also has a small zoo comprising animals and birds which are sort of great enjoyment and excitement for the kids.
Ambrai Ghat:-
The Ambrai ghat is one of the best Peaceful places in Udaipur where you can found beauty in nature. The ghat is surrounded by beautiful lakes and hotels. It is also known for Hanuman Ghat because here is the small temple of Hinduism god Shree Hanuman. The ghat is popular for the lakeside view.
If you want to visit this beautiful local places in Udaipur with family then Taxi Service in Udaipur provides best Tempo Traveller in Udaipur, so you can enjoy the wonderful places with your people. We also provides Car Retal Services In Udaipur, you can hire a taxi just by calling on: 9829998515
Contact Us
Call: 9829998515
E- Mail: carrentalinudaipur1@gmail.com
Visit: https://udaipurtaxi.co.in/