The city Chittorgarh is located in the state Rajasthan, Chittorgarh is famous for the historical monuments and for the Jauhar of Rani Padmavati and Rani Karnavati. The city, contain various Scenic Spotsto visit and get experience to those wonderful places.In the list of sightseeing Chittorgarh, you can explore Rana Kumbha palace, KirtiStambh, Kumbha Shyam Temple and many more.
Rana Kumbha Palace is one of the famous places to visit in Chittorgarh, which is situated inside the Chittorgarh Fort and near to Vijay Stambh. The palace is a fine specimen of Rajput's architecture. The palace have temple of lord Shiva, Zananamahal, Diwan -e -aam, along with a stable for horses.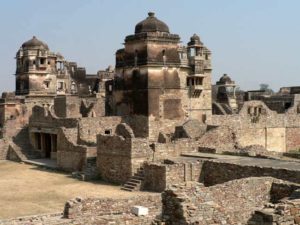 Chittorgarh Fort is one of the largest forts in India, built by Chitrangada Mori. The fort is situated on a 178 meter high hill that rises from the banks of river Berach. It is famous for their seven gates namely Hanuman gate, Padan gate, Jolda gate, Ganesh gate, Bhairon gate, Lakshman Gate. The structures of all gates are significant for their Rajput architecture features. There are also temples within the fort, in which huge complex of Jain Temples is main attraction to visitors.
Temples in Chittorgarh are also a famous attraction to tourists. In Chittorgarh, there are many temples like KumbhaShyamTemple, Meera Temple, Kalika Mata Temples, Lord Shiva temples which are known for devotion.
KirtiStambh or Tower of Fame is also a tourism place in Chittorgarh built by Jain merchant JIjajiBhagerwala during the reign the Rawal Kumar Singh in the 12th century. It is built in Solanki style architecture, it has many balconies, intricately carved niches, and latticed arches.
Rani PadminiMahal is also a tourist destination in Chittorgarh. This fort is dedicated to the beautiful Rajput queen, Rani Padmini, The wife of RawalRatan Singh. This is a palace from where ala-ud-din Khilji was permitted to obtain a glimpse of Padmini in a mirror placed in the main hall.
Are you looking for Udaipur to Chittorgarh  Taxi Services then Taxi services in Udaipur is the top leading Car Rental Service Provider in Udaipur. We provide all types of luxury cars and Tempo Traveller in Udaipur, Rajasthan at best rates. So don't wait and book our Taxi and enjoy life with your partner.
Contact Detail
Mob: +91 9829998515
Email: carrentaludaipur1@gmail.com
Website: https://udaipurtaxi.co.in/