Udaipur to Jodhpur Trip: Travel with Car Rentals in Udaipur- Jodhpur is a city in the Thar Desert of the northwest Indian state of Rajasthan. Its 15th-century Mehrangarh Fort is a former palace that's now a museum, displaying weapons, paintings and elaborates royal palanquins (sedan chairs). Set on on a rocky outcrop, the fort overlooks the walled city, where many buildings are painted the city's iconic shade of blue.
This list of some top Jodhpur attractions and places to visit will give you a diverse experience of the city. If you have a spare day or two, visit nearby Bishnoi village or Osian, where you can see carved temples and go on a less-touristy camel safari.
Explore Mehrangarh Fort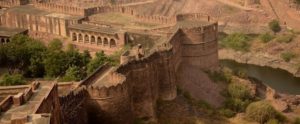 Impregnable Mehrangarh Fort, which rises above the city, is one of the largest forts in India. As impressive as it is, as a well-preserved heritage structure, there's so much more to discover inside. One of the highlights is the museum, which houses an outstanding collection of fine and applied arts from the Mughal period of Indian history.
Ride the Jodhpur Flying Fox
Adventure lovers can't pass up the unique opportunity to go zip-lining with Mehrangarh Fort as the backdrop. The circuit has six zip lines and takes around 90 minutes to complete. Groups of up to 12 people depart at appointed times. It's located on the north side of the Mehrangarh Fort.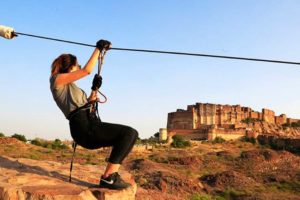 Relax at Jaswant Thada
This intricately crafted cenotaph (empty commemorative tomb) was built in 1899, in honor of Maharaja Jaswant Singh II. It features white marble lattice screens and whimsical domes, while the inside is adorned with portraits of Rathore rulers. It's a peaceful place to relax and enjoy stunning views of the Fort and city. Many a tired tourist sprawls on the front lawn to recuperate after sightseeing.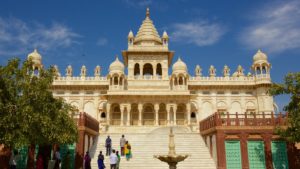 Wander through Rao Jodha Desert Rock Park
The Rao Jodha Desert Rock Park was developed in 2006, with the aim of restoring the natural ecology of a large rocky wasteland area next to the Fort. Neglected for many years, an invasive thorny shrub overran the park. After the bush was eradicated, more than 80 native species of rock-loving plants from the Thar desert were grown there. The Park extends across 70 hectares (around 200 acres) of rehabilitated land and has a walking trail. It's interesting to explore at different times of the year, as its foliage changes with the seasons.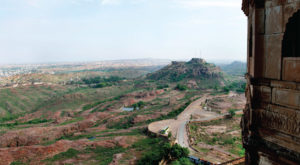 So we can Say that Jodhpur is one of the best city of Rajasthan. So when you come in the Rajasthan then you must visit in Jodhpur.
I hope this Article helpful to you. If you are looking for Taxi Service in Udaipur to Jodhpur then Udaipur Taxi Service providing you best Taxi Service in Udaipur.
Udaipur Taxi Pvt Ltd (Taxi Service in Udaipur) is one of the leading Car Rental Services provider & Tour Operator in Udaipur; we help you in experiencing the beauty and charm of the City of Lakes like none other. We make your tour & travel (Car Hire Services in Udaipur) at Udaipur, Jaipur, Jodhpur and other places in Rajasthan, simple and hassle-free Car Rental Service in Rajasthan.
If you wish to travel through the length and breadth of the desert state of India and be more than a regular tourist, then choose our services for an up close view of the charming life in this majestic state.
For more detail about us just Call on +91 9829998515 or visit http://udaipurtaxi.co.in/  you can Email on carrentaludaipur1@gmail.com .